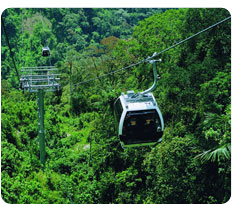 About Us
Matheran Rope-Way Private Limited (MRPL)
Mr. Vinaychand Kothari is the chief promoter of MRPL. Mr. Dilip V Kothari and Mr. Mehernoz Dangore, are the Director's of the company and are involved in the execution this project. Mr. Vinay Kothari is also chief promoter of Best Eastern Hotels Ltd. owning a resort - Usha Ascot at Matheran. Mr. Kothari has been traveling to Matheran on regular basis for last 25 years and it was out of his personal experience of last more than two decades when he visualized the hardship being faced by tourists / local population visiting to Matheran and the idea to provide alternate mean of transport for Matheran was conceived in the form of Rope-Way which is not only eco-friendly but also noiseless and convenient.
Matheran Hill station has been declared as an eco-sensitive zone and there is no vehicular traffic is allowed leaving tourists with limited means of transportation to access to Matheran Hills. The tourists can either travel through road up to Dasturi through vehicles and can continue onward journey of 3 KM to the hills either by foot or horseback or man pulled cart. The other alternative is mini train from Neral / Dasturi to Matheran, which is having limited capacity and never runs during monsoon period for about 4 - 5 months.
In spite of scenic beauty of Matheran, the tourists' inflow to the hills is comparatively low due to poor mode of transportations. The number of tourists visiting Matheran has been in the range of 6 Lac (2011-12) and growing with modest rate of 6% to 8% on yearly basis. Presently most of the tourists visiting Matheran Hills are using vehicle traffic to reach up to Dasturi Naka which in fact has been adversely affecting hills due to pollution caused by vehicular traffic.
Ropeway provides an alternate mode of transportation to access Matheran hill station which is eco-friendly, noiseless, pollution free, time saving and novel way of transportation and Matheran need this project in order to attract more tourists.